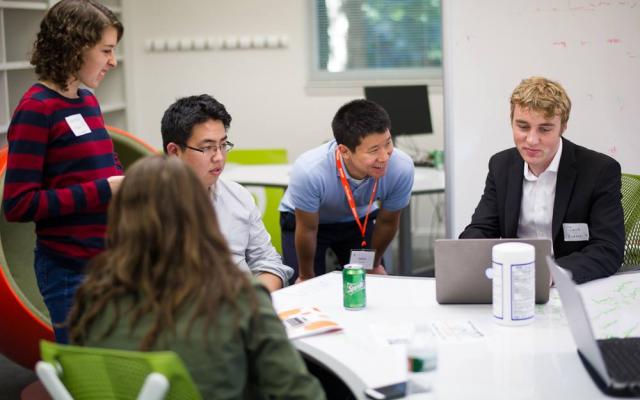 NOTICE (revised September 1, 2021): The Princeton Entrepreneurial Hub is now open again after a long hiatus due to the COVID-19 pandemic. Please be advised that the building is open to current students, faculty, researchers, and staff. Anyone who previously had prox card access to the building will be asked to submit a new Hub Access Request Form in order to regain prox access. We can't wait to see you again!
The Princeton Entrepreneurial Hub opened its doors in May 2015 and serves as a hub for entrepreneurship education and a startup incubator with co-working space for students, faculty, staff, and alumni. Providing a home to a variety of educational events, including workshops, seminars, and visits by University alumni and mentors, the Princeton Entrepreneurial Hub features event conference rooms, co-working space, and private offices.
The Princeton Entrepreneurial Hub (also familiarly referred to as the "Hub" and "eHub") was designed to encourage the exchange of ideas. Collaborations and connections among University faculty, students, and alumni are important to the University's commitment to serve the common good. The Hub's doors are also open to local community members and alumni who may be interested in attending public lectures and events. 
Programs at the Hub
The Keller Center's eLab and Tiger Challenge programs are based in the Princeton Entrepreneurial Hub. Through these programs, participants get funding to further develop their ideas and gain access to a physical workspace in the Hub. Furthermore, these interdisciplinary programs aim to provide Princeton's young, aspiring entrepreneurs, innovators, and design thinkers with a broad range of valuable resources, including mentorship, advising, and training.
Events & Other Hub Activities
Students are invited to the Hub to attend workshops and seminars where invited guest speakers cover topics such as financial accounting for startups, introduction to legal principles, strategic planning, customer discovery, marketing and business, design thinking, ideation, and more.
Students can also sign up for office hours with industry experts in one of the Hub's conference rooms or by phone to receive personalized one-on-one coaching and advice on topics such as marketing and access to capital.
The Princeton Entrepreneurship Council, whose mission is to engage the Princeton entrepreneurial ecosystem through education, mentoring and funding, has its offices on the second floor of the building.
Request Access to the Hub
Students interested in becoming part of the Hub community may request prox access via the Princeton Entrepreneurial Hub Access Application Form. Students must be currently enrolled and have a valid, active Princeton University ID card in order to enter the building. Please be sure to read the Hub Code of Conduct before submitting the form.
Guidelines For Community Use of Space
NOTICE (posted September 1, 2021): While COVID-19 space usage restrictions have been lifted for the University community (students, faculty, and staff), they remain in place for all other interested parties. Thus, with the exception of student-organized events, we are not accepting space requests at this time.
Those looking to hold an event at the Princeton Entrepreneurial Hub should consider the following guidelines before contacting Hub staff:
The event must be aligned with Keller Center's core mission of innovating education and fostering entrepreneurship, innovation and design.
All space inquiries must be submitted via the online form. 
The submission of this form does not guarantee a reservation.
Requesting parties are responsible for their own event logistics, including setup, catering, audio visual support, and cleanup.
Recurring events cannot be held at the Hub and external parties may request space no more than once per calendar year.
Review and approval of events could take up to six weeks, thus, last-minute requests are highly discouraged.
Both for-profit and not-for-profit (501c3) organizations seeking to engage with the University should note that events held at the Hub must be co-sponsored by an on-campus entity (from the early planning stages) and should be of benefit not only to the organization, but also to the Princeton University community. 
The Hub is located outside Princeton's main campus, and is not served by Princeton Facilities/Building Services, Department of Public Safety, Media Services, or OIT. It is therefore imperative that parties holding an event at the Hub contract their own services.
Further, at least one member of the Princeton University co-sponsoring party must be present at the event.
Location & Contact Information
Princeton Entrepreneurial Hub (map)
34 Chambers Street
Princeton, NJ 08542
Phone: (609) 258-3979
Email: ehub@princeton.edu
Accessibility
The front door on Chambers Street is not an entrance. The main entrance to the building is located around the corner on Bank Street/Hulfish (the right side of the building), where there is an accessible ramp. The building is equipped with an elevator, which is located to the right, just inside the main entrance. 
Transportation to the Hub
TigerTransit lines 1, 3, 4, and WS stop at Palmer Square/Nassau Street. The walk from the Palmer Square stop to 34 Chambers Street is 3 minutes. Please be sure to check the TigerTransit timetable to confirm service hours.
Students working at the Hub late-night may use the On-Demand Bus Service. The On-Demand Bus Service is available seven days per week during the academic year, excluding holidays. Provides service to all campus academic and residential buildings. Riders can now request on-demand service right from the TripShot app (Android or iOS) during on-demand hours. Once booked, the dispatch team will incorporate your ride into the on-demand bus schedule. Please note, especially during periods of increased requests, there may be a wait time. This is because the on-demand bus is accommodating multiple requests. For on-demand service requests, users must create a free account using your Princeton email address.
Parking
There is no parking available at the Princeton Entrepreneurial Hub. The Chambers Street Garage, a privately-owned parking deck, is located just across the street from the Hub. The Hulfish Street Garage is also in close proximity to the Hub. For information on these and other nearby parking options, refer to the Princeton Parking Information website.