The Keller Center Makerspace is a new space for creativity, innovation, design, and curiosity in the Princeton campus community. Transitioned to an open access makerspace in November of 2021, the Keller Center Makerspace is growing and developing to be a space that fulfills the following mission, vision, and values for the space. 
Current Open Access Hours 
The last day of spring 2023 open access hours is May 5, 2023. 
Summer 2023 open access hours will be set early June.
Mission, Vision, & Values
Mission 
The Keller Center Makerspace is an open-access makerspace for the entirety of Princeton University's community. The space provides access to a variety of maker equipment enabling users to explore the process of making, entrepreneurial ideas, innovative thinking, creative design, and taking ideas and making them into reality. 
The Makerspace hosts curricular and co-curricular programs along with an active calendar of making activities, talks, and events. 
vision 
As part of the Keller Center, Makerspace shares the Center's and Princeton University's vision of fostering a culture of design, innovation, making, and resilient practice for students to use their education, passion, and creativity to grow themselves.   
The Makerspace will serve as a space where the Princeton University community from all disciplines comes together to connect, make and design, work through ideas, and inspire ideas that make meaningful differences in a setting of personal practice.
Values
Culture of Design, Practice, and Making 
We value the exploration of design, technology, curiosity, and passion through making things.
Inspiring Innovation & Collaboration 
We value the idea of connecting, sharing, and collaboration. We see the space as where a student's passion and pursuit can be infused together. To awaken a new sense of community.
Rewarding and Inclusive Frictionless Experience 
We value the inviting and inclusive space to prerogative a rewarding experience in trial & error and making. We aim to make a frictionless process for learning our technology and equipment.
Practiced Discipline 
Instead, we value the challenge of problem-solving within a set parameter of discipline and the practice of trial & error. Believing the rigor of practiced discipline nurtures innovation and embeds safety. 
Getting Started at the Makerspace 
The first thing before getting started at the Makerspace is completing the Machine Shop Online Training Module. This will give you the basic safety training of using our space. 
Then, there are few ways you can get ready and started at the Makerspace. 
Drop in during our Open Access Hours and ask one of our staff members to help you get trained on our machines. 
Email us to schedule a tour or a training for a specific machine.
Use our Bookings system to reserve a training or project consultation. (Booking system in development. Will be deploying soon.) 
3D Printing Training 
If you are interested in learning about 3D printing and using our 3D printers, then enroll in the MakeNet Canvas and go through the 3D Printing training module. This training module was created by the MakeNet Makerspaces. Once you have completed the online portion of the training, then come to the Makerspace for the in-person training portion. After completing both parts of the training you will be able to use our 3D printers and the other MakeNet Makerspaces' 3D printers. 
Equipment and Tools
Design Computers 
*Will be deployed in few weeks* 
The Makerspace has multiple up to date computers to support various design work - 2D design, vector design, CAD (3D) modeling, coding, and other various design and making work. 
Software on the Design computers: 
Adobe Creative Suite 
Fusion 360 
Cura 
MakerBot Print 
Aspire* - coming soon 
Microsoft Office 
LightBurn - on selected computers 
PE-Design 11
Silhouette Studio 
Blender 
... and more to come. 
3D Printers
Makerbot Replicator 3D Printer
Makerbot Method Dual Extrusion Machine
Makerbot Replicator Z18
Creality 3D Print Mill
3D Scanners
NextEngine 3D Scanner
Software:
Laser Cutters
Glowforge Basic Laser Cutter
Emblaser 2 Laser Cutter 
CNC Machines
Bantam Othermill V2
Inventables Carvey Tabletop Mill
Laguna IQ Four-Axis Router
Sainsmart Genmitsu 3018-PROVer Mill
Other tools
Silhouette Cameo Die Cutter 
Pensa D.I.Wire Pro Wire Bending Machine 
Electronics
Agilent 33210A Function/Arbitrary Waveform Generator
ETS 7000A Digital-Analog Training System + Universal Counter
Tektronix TDS 210 Digital Real-Time Oscilloscope
Sewing
Brother PE770 Embroidery Machine
Woodshop Tools
JET Variable Speed Mini Lathe (Model JML-1014VSI)
WEN Drill Press
Dewalt Miter Saw
Belt Sander
WEN Band Saw
Shop Series by Rockwell Variable Speed Scroll Saw
SawStop Table Saw
Dewalt Planer
Porter-Cable Bench Grinder
Safety, Policies, & Protocol 
General Safety, Policies, & Protocol 
The Keller Center Makerspace adheres to Princeton University's Rights, Rules, Responsibilities. 
The Makerspace is only accessible for Princeton Campus community members - undergraduate, graduate, postdoc, staff, and faculty of Princeton University.
No Staff, No Access. The Makerspace is only accessible when a staff member is present during open access hours. 
No items or objects of hate speech, drug paraphernalia, and weapons (or weapons looking) can be made at the Keller Makerspace. 
The items and objects made at the Makerspace cannot be sold or exchanged for monetary value. 
The Makerspace does not support manufacturing. 
In the event of broken or damaged equipment, inform the Staff immediately. It's a creative space -- we know tools break. You will not be penalized for damage as long as the equipment was being used properly, but continued use of broken equipment can result in further harm to both yourself and the tools.
The materials we provide are shared and free resources for everyone in the space, so we can't 'reserve' materials.
The Keller Makerspace provides a storage shelf in the room across the hallway. Please fill out a WIP form when storing in the shelves.
The Keller Makerspace is not responsible for missing and damaged items and projects stored in the storage shelf or left within the Makerspace. 
Projects that don't fit into the storage shelves cannot be stored in the store room or left within the Makerspace.
Projects cannot be worked on or stored in the hallway.
Consult with the Makerspace Manager on potential large projects (larger than 2ft x 4ft) for approval. 
Any project or materials that doesn't have a WIP form and left unattended for two weeks will be removed.
Users must be trained and be fully aware of each machine's specific safety protocols before using each machine.
Clean up the equipment and work areas after use.
Closed toe shoes are required within the Makerspace.
No pets in the facility, except for approved service animals.
When in doubt ask. We encourage you to ask us questions.
In case of an emergency, call 9-1-1.
Additional Woodshop Policies 
Long pants (ankle-length) are required.
Long hair (longer than ear length) should be tied up and/or clipped to ensure no motion of hair independent of the head and no obstruction to visibility.
Wearing loose clothing or accessories is not permitted.
Protective eyewear (provided by the Makerspace or approved by Manager/GSE) is required.
Dust mask, ear protection, and aprons are highly recommended.
Woodshop can only be accessed with supervision of a GSE and/or Manager.
Q&A 
Who can use the space? 
The Makerspace is open to everyone who is part of the Princeton University Campus - all undergraduate and graduate students, postdocs, staff, and faculty - during our Open Access Hours.
When is the Makerspace open? 
You can access the space during our Open Access Hours.
| | | | | | | |
| --- | --- | --- | --- | --- | --- | --- |
| Sunday | Monday | Tuesday | Wednesday | Thursday | Friday  | Saturday |
| Closed | Closed | 10 am - 5 pm | 10 am - 5 pm | 10 am - 6:30 pm | 1:30 pm - 6:30 pm | 10 am - 4 pm |
Where is the Keller Center Makerspace? 
The Makerspace is located on the second floor of the H-Wing of the Engineering Quadrangle (sometimes referred to on campus maps as Von Neumann Hall) room H219. The best way to find the Makerspace is to follow the signage for "H-Wing" that begins in the A-Wing at the Keller Center staff offices.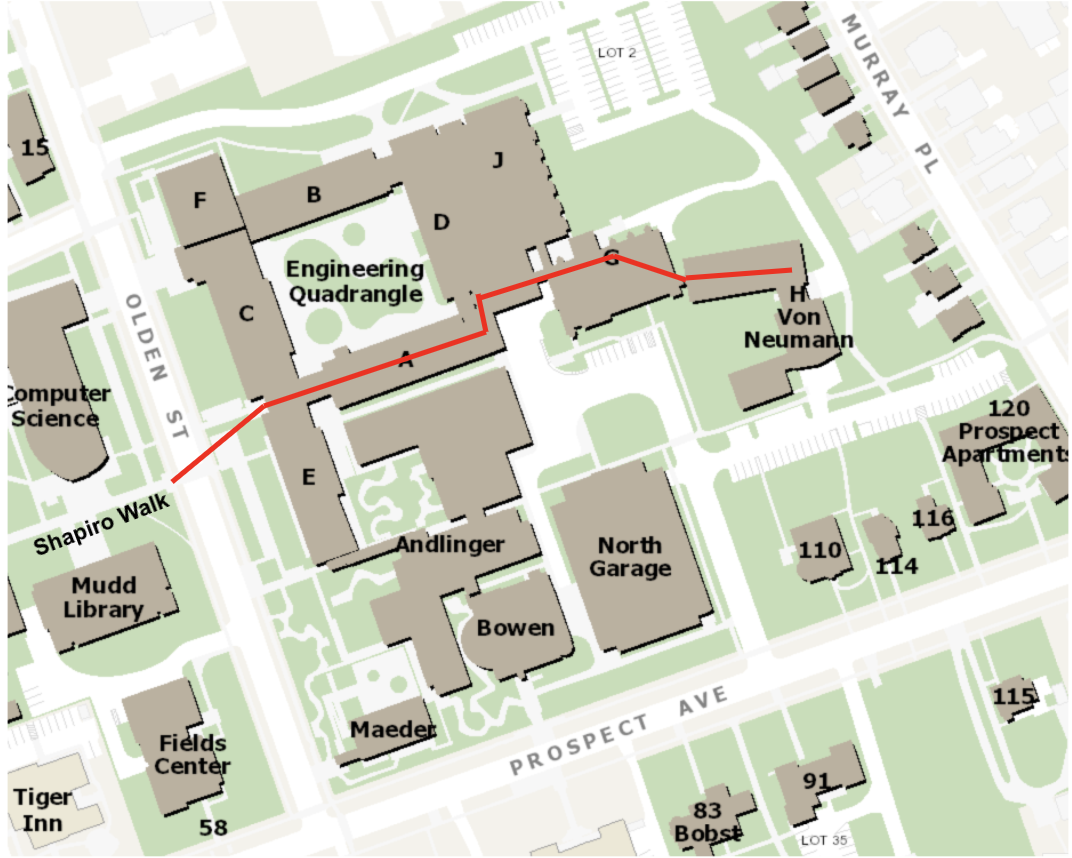 What equipment, technology, and tools does the Makerspace have? 
Refer to the Equipment and tool section below. 
What are the policies of using the space? 
Refer to the Safety, Policies, and Protocol section below. 
What are the training requirements to use the space and equipment? 
Users of the space must first complete the Machine Shop Online Training Module. You can do the training ahead of time or do it at the makerspace during your first visit. 
Each equipment and technology will have their specific training and procedures, which you will learn with our staff. 
Online training modules are in development. 
Can I schedule a time to get trained on a specific equipment? 
Yes, you can. We have a Booking system where you can schedule a time for training and project consultation. The Bookings module should be available when we finalize our Open Access Hours. 
For now, please send any inquiries to the Keller Maker email
How much does it cost for materials? 
At the moment the Keller Makerspace provides the materials (3d printing filament, laser cutting materials, woodworking wood, etc). for "free". 
There are some materials that are reserved for the courses happening in the Makerspace. Ask one of our Staff to help you identify which materials you can use. 
If you have a large project, please schedule a consultation with the Makerspace Manager. 
I have a project I want to make, but I am unsure how to approach it, if I can make it at the Makerspace, or how to use specific equipment. What should I do? 
The best way is to schedule a consultation with the Makerspace Manager, Castle Kim, or with one of the Graduate Student Educators at the Makerspace.
How do I get involved with the design and making community on Princeton Campus?