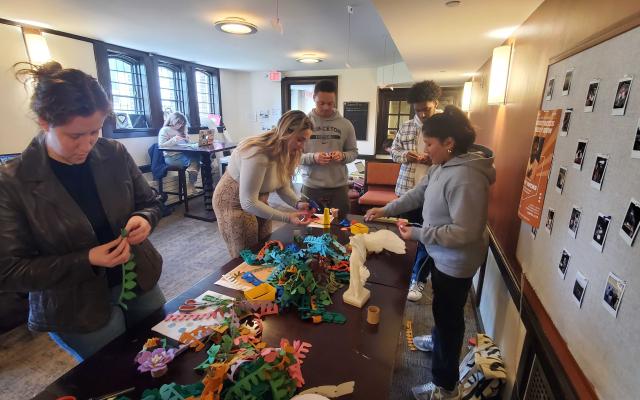 The Keller Center Makerspace provides free access to a variety of maker equipment, enabling users to explore the process of making, entrepreneurial ideas, innovative thinking, creative design, and turning ideas into reality. We host programs in and out of the classroom, along with an active calendar of making activities, talks, and events.
We are located on the second floor of the H-Wing of the Engineering Quadrangle (sometimes referred to on campus maps as Von Neumann Hall) in room H219.
Hours of operation
Open access hours for Fall 2023 are:
Sunday - Closed
Monday - Closed
Tuesday - 1 pm to 7 pm
Wednesday - 10 am to 5 pm
Thursday - 10 am to 5 pm
Friday - 10 am to 7 pm
Saturday - 10 am to 3 pm
What will you make today?

Get started
Members of the Princeton campus community are always welcome to visit during open access hours or email us to schedule a tour.
When you're ready to get started:
Complete online orientation
The Machine Shop Online Training Module is a web-based orientation required for people who work in academic machine shops. After completing the 11-minute program and subsequent quiz, you will be authorized to complete hands-on training in the Makerspace.
Get trained on our machines
You can either:
Drop in during open access hours and speak to a staff member to get trained.
Note: To learn about 3D printing and use our 3D printers, first enroll in the MakeNet Canvas and complete the 3D printing training module. After that you can use one of the above methods for in-person training.
Get involved with the design and making community
The Keller Center Makerspace is part of a group of other design and making spaces on campus. To be a part of this network and learn more about the other spaces for creation on campus, join the MakeNet Discord server or ask us for more information. You can also learn more about the tools available at each space.