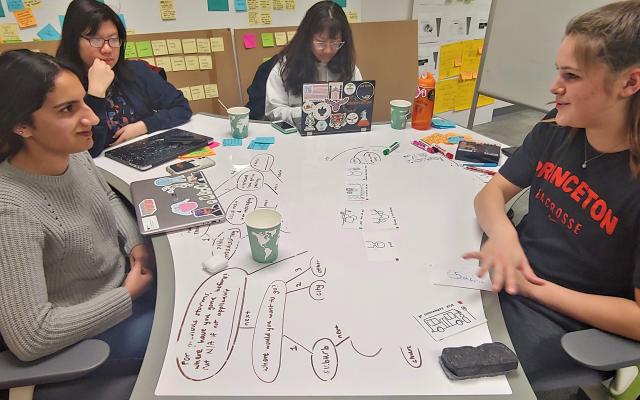 Tiger Challenge helps students and community partners build more equitable and joyful societies. Taking place inside and outside of the classroom over multiple years and pathways, students and advisers address complex societal issues in partnership with nonprofit and government partners. Teams develop lasting innovations across education, health, sustainability, social justice, and civic life.
The program is grounded in design thinking, a body of techniques that unlocks empathy, creativity, collaboration, and open-mindedness. Learn about the design thinking methodology.
Innovation through innovation can take many paths, and so can this program. Opportunities include: 
A 10-week, full-time summer immersion experience
The Community Project Studio course for academic credit
Independent work where students conduct impact evaluations of their designs
Go ahead, change the world

Tiger Challenge model
Contextualization (SUMMER)
Immerse broadly in the challenge area to identify unmet needs and frame new opportunities:
Ethnographic techniques
Review of literature and prior work
Conversations with advisors and partners
Create maps of information
How to meet these requirements:
Summer Tiger Challenge program OR
Academic year Tiger Challenge program OR
Another project-based course or equivalent experience (by application)
Conceptualization (FALL SEMESTER OF ACADEMIC YEAR)
Develop, test, and adapt novel ways to address the opportunities and problems identified:
Brainstorming techniques
Prototyping methods
Pilot planning
How to meet these requirements:
EGR 250 / 251 - Community Project Studio course (1 course per semester during academic year)
Implementation (SPRING SEMESTER OF ACADEMIC YEAR)
Execute a pilot and pilot study, testing the intended and unintended impacts of designs:
Project management tools
Impact evaluations
Working with partners to create plans for durability
How to meet these requirements:
Summer Tiger Challenge program OR
EGR 251 / 350 / 351 - Community Project Studio course (full academic year) OR
Departmental independent work (junior papers/theses) or graduate research
Benefits
Participants will learn how to practice human-centered design and design thinking in a real-life project
Assignment of well-established community partners, plus Princeton advisor per team
Targeted workshops and lectures open only to Tiger Challenge participants
Networking opportunities with social innovators, designers and consultants
$5,000 stipend per team member
Summer internship counts towards Entrepreneurship (ENT) certificate practicum
End-of-summer presentation to the public
Participate in Princeton Research Day
Housing on campus (dependent upon the lifting of COVID-19 restrictions currently in place)
Co-working space in the Princeton Entrepreneurial Hub (dependent upon the lifting of COVID-19 restrictions currently in place)
Eligibility
Princeton University graduate and undergraduate students of all departments.
Key Dates
December 29, 2021: Priority application begins
February 13, 2022: Priority application ends, interviews (round 1) begin
Mar 31, 2022: Late application begins*
April 22, 2022: Late application ends, interviews round 2 begin*
Early-May, 2022: Team members finalized
Early-May, 2022: Welcome / orientation
June 1, 2022: Summer Program Kickoff Barbecue
August, 2022: End-of-summer presentations
Note: Round 2 application has now been extended to April 29, 11:59 pm. 
Application is now closed. Be notified when the application opens.
Check out the new challenges beginning in Summer 2022!
Downpour Detour - How might we take actions toward the realities of climate crises from our own backyard?
Healing Arts, Expressive Parks - How might we explore the healing power of interacting with the arts in the presence of nature?
Microaggression | Social Impression - How might we put an end to and make visible the silent suffering of Asian Americans?
 
Note: Tiger Challenge Summer 2022 will be in-person in the first 4 weeks (late-May to early July), and remote for the rest of the program (6 weeks). Housing will be provided for the first 4 weeks.