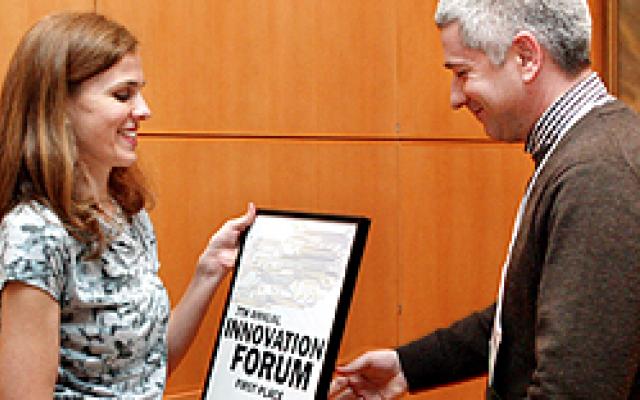 Innovation Forum is an annual competition and networking event showcasing Princeton research with the potential to be commercialized. Participants present their research in a three-minute presentation to the audience and a panel of judges, followed by a two-minute question and answer period.
Audience members typically include:
industry representatives
angel investors
venture capitalists
faculty
students
staff
members of the Princeton area entrepreneurial community
Following the presentations is a keynote speech and poster session/networking reception where participants can further discuss and demonstrate their research.
Since 2005, this event has showcased innovations in engineering and the natural sciences. This year, the Keller Center and the Humanities Council at Princeton are adding a track focused on innovations in the humanities and social sciences.
Eligibility
Individuals and teams consisting of Princeton:
Faculty
Research staff
Post doctoral candidates
Graduate students
The submitted research must be judged to have commercial application.
Prizes
The top three entries in engineering or natural sciences receive prize money totaling $30,000. Funds will be awarded to the Principal Investigator for the research and must be used to advance the research or commercialization of the innovation.
$15,000 for first place
$10,000 for second place
$5,000 for third place
How to Participate
The 15th Annual Innovation Forum will be held in a virtual format on September 29, 2020 at 1 pm.
As a presenter
The application period for the 2020 Innovation Forum is now closed. The application period for the 2021 Innovation Forum will open in Spring 2021.
As an audience member
2019 Results