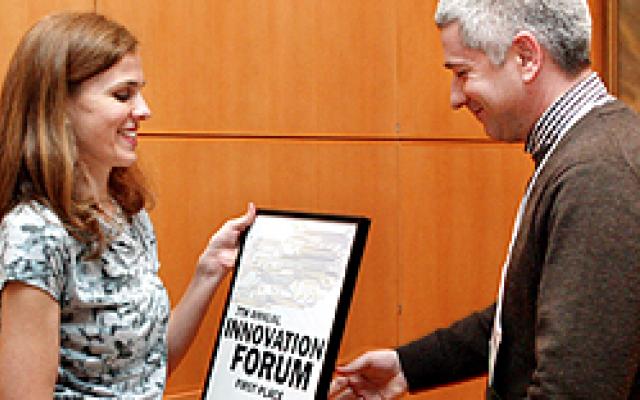 Innovation Forum is an annual competition and networking event showcasing Princeton research with the potential to be commercialized. Participants present their research in a three-minute presentation to the audience and a panel of judges, followed by a two-minute question and answer period.
Audience members typically include:
industry representatives
angel investors
venture capitalists
faculty
students
staff
members of the Princeton area entrepreneurial community
Following the presentations is a keynote speech and poster session/networking reception where participants can further discuss and demonstrate their research.
Eligibility
Individuals and teams consisting of Princeton:
Faculty
Research staff
Post doctoral candidates
Graduate students
The submitted research must be judged to have commercial application.
Prizes
The top three entries receive prize money totaling $30,000. Funds will be awarded to the Principal Investigator for the research and must be used to advance the research or commercialization of the innovation.
$15,000 for first place
$10,000 for second place
$5,000 for third place
How to Participate
The 15th Annual Innovation Forum will be held on September 29, 2020 at 4:30 pm.
As a presenter
The application period for the 2020 Innovation Forum is now open. The deadline to submit the full application is Friday, June 5, 2020.
As a judge
Log in to review presentations (available in late-Spring 2020)
As an audience member
2019 Results