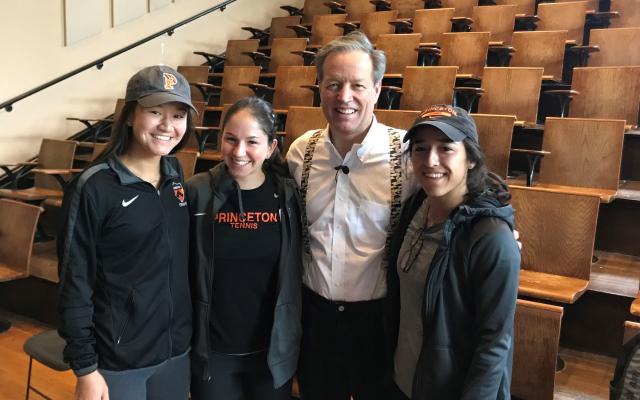 If you tried to get a seat in David Miller's ethics seminar a few years ago, you were most likely waitlisted. Due to its popularity, the seminar soon became a course, which attracted students from twenty disciplines across campus. The Keller Center is extremely excited to announce that David Miller has joined our faculty and that Business Ethics: Succeeding Without Selling Your Soul (EGR/ENT/REL 219) will now be part of the Center's core course offerings for fall 2020.
Miller's course resonates with students who often contact him years later to express the lasting impact the class had on their careers and day-to-day lives.
"I wanted to let you know that I have continued to think about and use the material from Business Ethics throughout my first year in the "real world" at IBM and that the class was truly one of the best I had at Princeton. Thank you for that!" Liz
"The mission of the Keller Center aligns very closely with what I teach in EGR/ENT/REL 219. Building businesses and working in a way that creates sustainable societal impact is a core theme in my classroom; doing well by doing good.  We talk quite a bit about the idea of following our own moral compass in both our careers and personal lives, which can lead us to work that has a positive impact on ourselves and beyond. And for many people, part of their moral courage and ethical leadership is shaped and informed by their faith tradition," said Miller.
Despite its title, this course is not geared solely towards students of religion. In fact, about 18% of those who have taken Miller's class self-describe as agnostic or atheists. "This generation is extremely interested in making a positive impact in the world. In my course we study the rich lessons and wisdom traditions found in many religions and the moral philosophies that guide them. We read case studies and hear from CEO guest speakers, both secular and of varying religious backgrounds who discuss the ability to follow your North Star and become both morally and financially successful," explains Miller.
Ethics courses are traditionally grounded in the history of philosophers and the study of law, which is one way to look at the subject. However, Miller thinks that by looking at ethics through the teaching of world religions and the ethnography of people's cultural traditions, we can see work and business from a space that may be relevant to a broader community.
"Thank you so much for inviting such incredible guest speakers to our classes. Their wisdom and experiences are incredibly insightful and moving. Today in class I found Mr. Jay Worenklein's stories to be inspiring. I believe it may have been one of my most important 50 minutes at the university (I'm a senior!)." Eeh
Before getting his PhD in ethics, Miller was a senior executive in international finance and business. Since coming to Princeton in 2008, he also directs the Faith & Work Initiative, which will now be housed in the Keller Center. Accompanying Miller will be his two Associate Research Scholar colleagues, Nicoleta Acatrinei and Michael Thate. 
 
In these challenging times, having leadership that guides our community towards lifestyles that enhance, include, and enrich is essential. That's social impact. We are thankful to have David Miller and his colleagues on our team.